News
Thank you!
A HUGE thank you to everyone who came along to our 50th Anniversary Weekend! It was the best weekend, SSTC is a great community of wonderful people!
The CLAPA Kids Trial 2022
THE CLAPA KIDS CHARITY TRIAL 27/28th AUGUST
CAMPING available run by Surrey Schoolboys Trials Club THAMES MCC Hookwood Trials Club a great weekend of trials riding
In 2021 over £2000 made for this very worthy cause- all your members are very welcome youth and adults please publicise on your webs and facebook entries details through SSTC
New Gallery
The new gallery for photographs hosted here on SmugMug.
The gallery can be viewed via a web browser or the free apps available for Android and iOS.
Information about the Club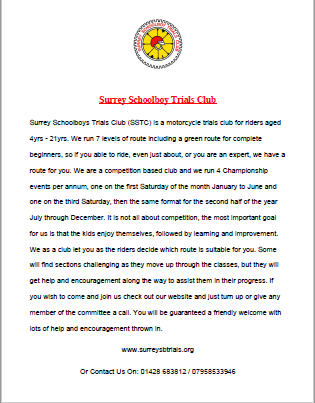 A Message from Phil Embury copied from Facebook for information
Please use this Eventbrite link to renew membership or join SSTC for 2022