Camping Weekend 2021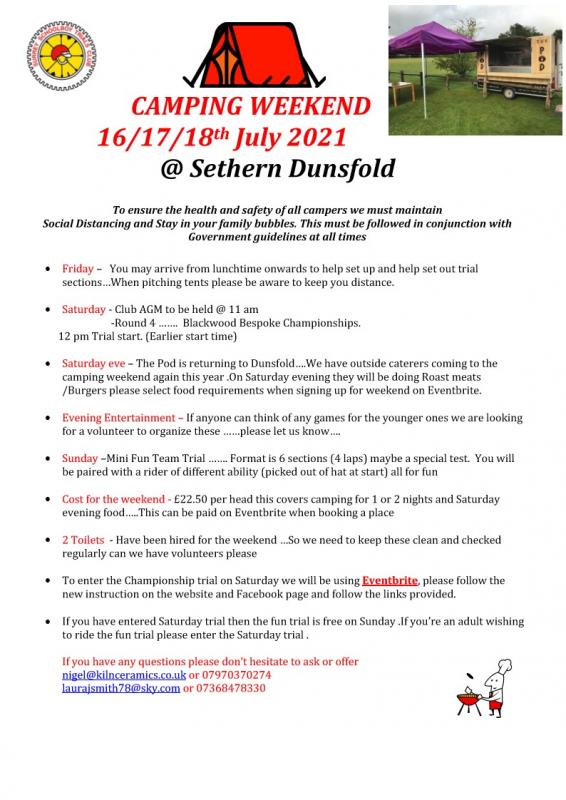 Jim Rose Goodbye Trial
Jim Rose (Jungle Jim) Goodbye Trial
Adult and Youth Trial. Everybody welcome
Myself my family and Eddie will officiate this event as requested by Jim.
!! Whatever COVID rules in place at the time Will be strictly Enforced!!
Venue = Kitsmead Landowner/Leaseholder Supported. 4 X Routes to cater for all abilities Jim has already via Eddie provided trophies for the Trial. Still extending his arm of Generosity.
£5.00 per rider with all proceeds going to SYTC more Generosity!!
Please could you Support the trial as I feel it will be truly fitting for us all to Celebrate Jim's hard work for the Club.
Please keep your eyes on this page for Updates and also inform as many Riders as possible we are trying obviously to make this a successful day.
Catering will be there
I want this post to be nothing but Positive and should anyone feel the need to speak with me please PM me. Thank You
This trial will Not interfere with the Club championship.
Committee will inform you All when monthly trials will resume.
Kind Regards to All stay safe
Please read the updated supplementary regulations. This is important if we wish to continue running trials or practice sessions.