News
Apollo Academy Round 5 Assisted Practice
Apollo Academy Championship Round 5 at Brackendene - Saturday 2nd October at 1pm
If you would like to take part in the Assisted Practice Session, please make sure you select the ticket option (FOC) to secure your place. Please note that if we do not have enough volunteers to run the session, it will be cancelled. If you would like to put yours or your child's name forward (Novice, Intermediate or Expert) to help, please contact Jamie Mitchell - 07787 112186, before Thursday 30th September.
Southern Youth Shield
THE SOUTHERN YOUTH SHIELD
Hosted

HOOKWOODS JUNIORS,
SURREY SCHOOLBOYS TRIALS CLUB AND
SURREY YOUTH TRIALS CLUB
A INTER CLUB CHAMPIONSHIP
SATURDAY 25th SEPTEMBER 2021
MOUNTAIN WOOD FARM , GREEN DENE , EAST HORSLEY KT24 5TA
ORMS PERMIT NUMBER …
START TIME : 10.30am
Clerk of the Course : Mark Watmore
Land Owner and Steward : Andy Todman
Meeting Secretary : Laura Johnson / Luke Smith 07368 478330
FINAL INSTRUCTIONS
TO ENTER THE SOUTHERN YOUTH SHIELD : Please go onto http://www.surreysbtrials.org and follow the links to Eventbrite also links will be available on Facebook page for your club …You will need to pay at the same time.
This link will be available from Wednesday 8th September
If you cant enter online just phone Laura Johnson and she will assist you with this ..
CLASSES: Beginner (yellow)...….Novice (red)……Expert (blue)
MACHINE EXAMINING: All machines and clothing must be presented for examination prior to starting.
START ORDER: You will be told by Clerk of Course where to start
MARKING: Solos-& Sidecars-TSR22B (Non Stop)
COURSE: 4 Laps of 8 Sections with 3 routes. No Road Work.
BREAK: There will be a short break for lunch after two laps and you will be told when you can restart.
LITTER: Please take all your litter home with you
Staged in accordance with the ACU Environmental Code
PLEASE inform the Secretary of the Meeting if you have retired or changed route
EMERGENCY INFORMATION: Nearest Accident and Emergency Hospital
Royal Surrey Hospital, Guildford (01483 464156) Police at Guildford (01483 31111)
THANKS TO THE OBSERVERS AND OFFICIALS
NOTICE
WARNING TO THE PUBLIC! MOTOR SPORT CAN BE DANGEROUS.
Despite the Organisers taking all reasonable precautions, unavoidable accidents can happen. Please comply with all instructions of Marshalls and notices and remain in permitted areas only.
THEY ARE CONCERNED WITH YOUR SAFETY
New Trial Entry System Important Changes Please Read
As a club we have had to make a few changes to how we enter trials. We will now be
using a website called Eventbrite to enter trials, this procedure is similar to the ACU
online entry.
There will be a link posted on the website/Facebook/Instagram and all you need to
do is click on it and it will take you directly to the page. Simply fill in all the required
fields and your entry will be confirmed immediately. This means that the whole
procedure will be paperless and more efficient.
The cost for riding a trial is going to increase from £10 to £12, which is a relatively
small increase, most youth trials are £15 as a comparison. The club have charged
£10 for many years, so we hope that you will be understanding in this change.
The club is run by volunteers, who all work and have families, this new method will
reduce the workload for all involved in running the club. With the current situation
due to COVID-19 we have had to change the way we run the club and moving
forward, we believe that this is a positive move. SSTC will run this for trial period to
see how it works; please bear with us as there maybe few teething problems at the
beginning.
I will be available for any questions at Betchworth tomorrow or email sstctrialentry@gmail.com
Here is the link to enter Round 3 of Mack Logistics Championship on 19th September 2020
https://www.eventbrite.co.uk/e/surrey-schoolboys-trials-club-round-3-mack-logistics-sethern-dunsfold-tickets-119332148669
New Gallery
The new gallery for photographs hosted here on SmugMug.
The gallery can be viewed via a web browser or the free apps available for Android and iOS.
Information about the Club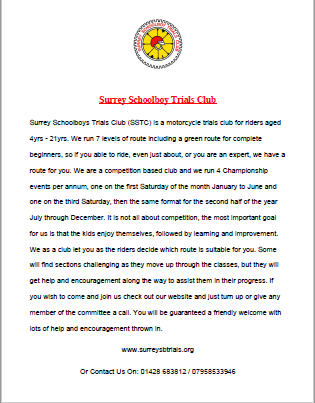 A Message from Phil Embury copied from Facebook for information