News
Dews Farm Final instructions
FINAL INSTRUCTIONS
COVID-19: The restrictions have now been lifted but you must understand that despite the precautions taken by the club and other riders, you maybe exposed to the Covid-19 virus. Individuals need to take some personal responsibility for their own safety and exercise judgement as appropriate. Please do not attend if you have contracted Coronavirus in the 10 day period prior to the trial or are unwell or suffering any symptoms, please let SoM know and you will receive a refund.
HS2 have taken possession of much of the local area, you will need to pass through their security at the end of Dews Lane, you will need to have provided your transportation vehicle number to Bob Brown, they have a list of riders.
SIGNING ON: The Secretary will 'sign on your behalf' to avoid contamination
START ORDER: To be advised on the day, no practice prior to the start.
COURSE: 4 Laps of 8 Sections with 5 routes (7 variations)– No Road Work.
LITTER: Please take all your litter home with you
Staged in accordance with the ACU Environmental Code
EMERGENCY INFORMATION: Nearest Accident and Emergency Hospital
Hillingdon Hospital, Pield Heath Road, Hillingdon Middlesex (01895 238282)
Police at Hillingdon (01895 251212)
OBSERVERS:- Any offers of help would be appreciated.
CLASSES & ROUTES
Expert and Youth Expert – White Route
Inter and Youth Inter – Blue Route
Youth Novice 50/50 – 50% Blue Route and 50% Red Route
Novice and Youth Novice – Red Route
Youth Beginner 50/50 – 50% Red Route– 50% Yellow Route
Beginner and Youth Beginner – Yellow Route
Youth Rookie – Green Route
NOTICE
WARNING TO THE PUBLIC! MOTOR SPORT CAN BE DANGEROUS.
Despite the Organisers taking all reasonable precautions, unavoidable
accidents can happen. Please comply with all instructions of Marshalls
and notices and remain in permitted areas only.
THEY ARE CONCERNED WITH YOUR SAFETY
OFFICIAL PROGRAMME
SOUTH HARROW & SSTC
INCORPORATING A ROUND OF THE BLACKWOOD BESPOKE CHAMPIONSHIP FOR SURREY SCHOOLBOY TRIALS CLUB
SATURDAY 16th OCTOBER 2021
DEWS FARM, HARVIL ROAD, HAREFIELD, MIDDX UB9 6JN
Signposted from opposite the Dogs Trust
PERMIT NUMBER ACU 61749
Start Time: 13.00
Clerk of the Course: Bob Brown
Course Plotters: Nigel Hains, Matt LeFevre, Lennie Tidd
Secretary of the Meeting: Laura Johnson, 19 Nugent Close, Dunsfold, Surrey GU8 4NW Phone Number 07368478330
Blackwood Bespoke Championship Dews Farm
BLACKWOOD BESPOKE CHAMPIONSHIP ROUND 6 – 16TH OCTOBER 2021
DEWS FARM HAREFIELD UB9 6JW – START TIME 1.00pm
This trial is being run in conjunction with The South Harrow Club (as in the past 3 years) under ACU Permit No 61749 as the land is leased by ACU South Midlands from The London Borough of Hillingdon
Clerk of the Course – Bob Brown
Secretaries of the Meeting - Laura Johnson/Luke Smith
Entry for the trial is via the ACU on line system, for ACU members you need to enter via your personal portal. Entry Fees – Youth - £12 Adult - £18
It is suggested that non ACU members enter on the day (please bring correct monies) but they need to advise Bob of their vehicle transportation vehicle registration number for HS2 security purposes
01895638738 or robertbrown222@hotmail.com
The Len Hutty Memorial Group Trial
The Len Hutty Memorial Group Trial
TVTC GROUP / STAR GROUP / SOUTH COAST GROUP
Sunday 7th November 2021 Venue …Hungry Hill, Aldershot, GU11 1PZ
START TIME: 10.00 am
Restricted to members of all ACU clubs in the Star Group of the SE Centre / TVTC / AMCA Clubs South Coast Group
Clerk of the Course: - Mark Watmore
Secretary of the Meeting :- Mrs Mandy Frearson, 10 Nutbourne Cottages, Hambledon, Surrey. GU8 4EA. Tel 01428 683812 email : frearson898@btinternet.com
ACU On Line Entry only Opening date 1st October 2021. Closing date 31st October 2021
SUPPLEMENTARY REGULATIONS
JURISDICTION: Held under the National Sporting Code and Standing Regulations of the ACU,the Southern Centre Trials Regulations and any Final Instructions that may be given.
Classes : A – Expert, B – Intermediates, C – Novice, D – Over 40,E. Pre 67 BLUE, F – Over 50, G Twinshock, H –Air Cooled Mono.
I – Pre 67 RED. J- Pre 67 YELLOW,L – Sportsman. M- Youth Expert, N – Youth Inter, O – Youth Novice. Youth Beginner
White Route – Adult and Youth Experts
Blue Route – Adult and Youth Inters and Over 40s.New Route Pre 67 BLUE
Red Route – Adult and Youth Novices, Over 50, Twinshock,Air Cooled Mono Pre 67 RED. Yellow Route – Pre 67 YELLOW , Sportsman and Youth Beginners
ACU On Line Entry Only:- £30 for Solos, £25 for Youths. Sidecars £35.
Course… 2 laps of 18 sections and Special Test.
Child Protection: The secretary of the meeting is the point of contact.
OBSERVERS: We will need observer assistance,. We ask that all clubs within the combine / groups please provide some observers. If you are able to assist, or require further clarification, please phone Mandy Frearson on 01428 683812 or email frearson898@btinternet.com
Medication It is your responsibility to declare at signing on if you are taking any drugs, you may be tested. Having entered the event, if you become a non starter you must explain your absence to the promoting club. Failure to do so is a breach of the Rules.
Covid 19 This event will be run in accordance with any specified ACU instructions still in operation.
Awards Winner Pre 67 Blue Route Winner Pre 67 Red Route
Naughty But Nice will be there
New Trial Entry System Important Changes Please Read
As a club we have had to make a few changes to how we enter trials. We will now be
using a website called Eventbrite to enter trials, this procedure is similar to the ACU
online entry.
There will be a link posted on the website/Facebook/Instagram and all you need to
do is click on it and it will take you directly to the page. Simply fill in all the required
fields and your entry will be confirmed immediately. This means that the whole
procedure will be paperless and more efficient.
The cost for riding a trial is going to increase from £10 to £12, which is a relatively
small increase, most youth trials are £15 as a comparison. The club have charged
£10 for many years, so we hope that you will be understanding in this change.
The club is run by volunteers, who all work and have families, this new method will
reduce the workload for all involved in running the club. With the current situation
due to COVID-19 we have had to change the way we run the club and moving
forward, we believe that this is a positive move. SSTC will run this for trial period to
see how it works; please bear with us as there maybe few teething problems at the
beginning.
I will be available for any questions at Betchworth tomorrow or email sstctrialentry@gmail.com
Here is the link to enter Round 3 of Mack Logistics Championship on 19th September 2020
https://www.eventbrite.co.uk/e/surrey-schoolboys-trials-club-round-3-mack-logistics-sethern-dunsfold-tickets-119332148669
New Gallery
The new gallery for photographs hosted here on SmugMug.
The gallery can be viewed via a web browser or the free apps available for Android and iOS.
Information about the Club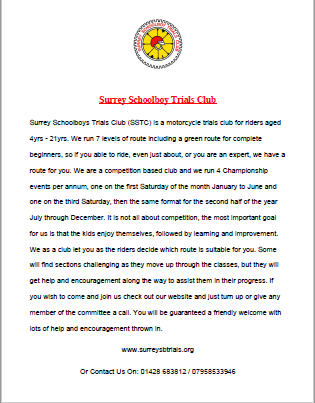 A Message from Phil Embury copied from Facebook for information