News
OBSERVERS NEEDED! LEN HUTTY TRIAL
We are again running the Len Hutty Trial this year at Frys Cross Farm, the new venue we introduced for this trial last year. For this to happen we need to have the observers, which as you all know is a vital part of running a trial! If you are able to help, please contact Mandy Freason. If you would like to enter the Regs are now on the events page. We hope to see you there!
2018 July - December Championship Sponsors
We are pleased to announce a new sponsor for our first Satuday Trial Chamipionship - CAR-D-LOCK. Many thanks to Andy Bush for arranging this, aswell as Trade Tyres Guildford for the continued support on the third Saturday Trial Championship!
Free first ride for Surrey Youth Members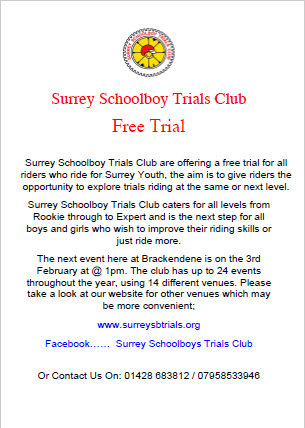 Information about the Club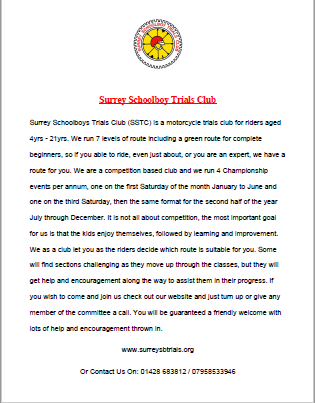 The 5th November will be remembered for its beautifully clear sunny sky that welcomed riders, young and old, to the 2017 Len Hutty Memorial Group Trial to raise funds for the Phyllis Tuckwell Hospice. The start was a stirring scene with over 130 entries spanning the generations of riders and machines eager for the off.
Surrey Schoolboys returned to the ever-entertaining Hooks Woods Trial Centre for the 2nd round of the Degrees of Comfort Air Conditioning Specialists Championship. The sky was overcast with distant rumblings of thunder adding to the atmosphere, but the 33 riders rose to the challenge.
March 2017 saw the start of ladies and girls BTC, 1st round was Seymours arena. Two of our girl members took part Izzy & Jazz, both riding youth A route 2. Sections 2 & 7 proved difficult all day with some big rocks to overcome, with lots of marks lost right across the board the girls had a tough day & some big bruises to prove it!!! Jazz finished on 107 & Izzy on 162......well done to both of you.
Round 2 was in south Shropshire at the weekend, which saw Jazz riding in an old quarry, with very short, close together sections, not a great challenge for any of the classes!
As Jazz was the only one riding youth A, I don't need to tell you where she finished!!!
With only 16 marks lost all day, let's hope Devon in June will prove more of a challenge to all. 🏆
Revised rules
Please note that the a Child Protection statement has been added as a suffix to the rules, these can be viewed in the 'Downloads' section.
Robert Ferris is now our Child Protection Officer in conjunction with his role dealing with Health and Safety.
The committe would also like to remind everyone of rule 14, which states, "No abusive language at any time"!
Membership process
We are receiving a lot of application forms without the ORMS form, which is required for insurance purposes. Please read the document in Downloads called Membership Process before submitting your application.
Recently, there have been requests for permissions for underaged riding. To avoid embarresment of being refused a ride, please note that we abide by ACU Ruling. Which is...