News
Round 2 Trade Tyres Championship
CHARITY TRIAL @ ROUND ROCKET SATURDAY 21st SEPTEMBER .....1 pm START
Surrey Schoolboys are please to announce that we will be running a charity trial at Round Rocket in aid of Young Minds Charity ( see link below ) ...This is a championship round and also open to all members and non members that want a ride out on Saturday 21st at this great venue....Five routes from rookie to expert and on the day entry £15 adults and £10 for youths ...
Please support if you can as this charity has close links to some of our members
We will be running 8 sections 4 laps so will be looking for observers if you can help with this please send me a text or call me on 07970370274
See you all there
Surrey Youth Shield 28th September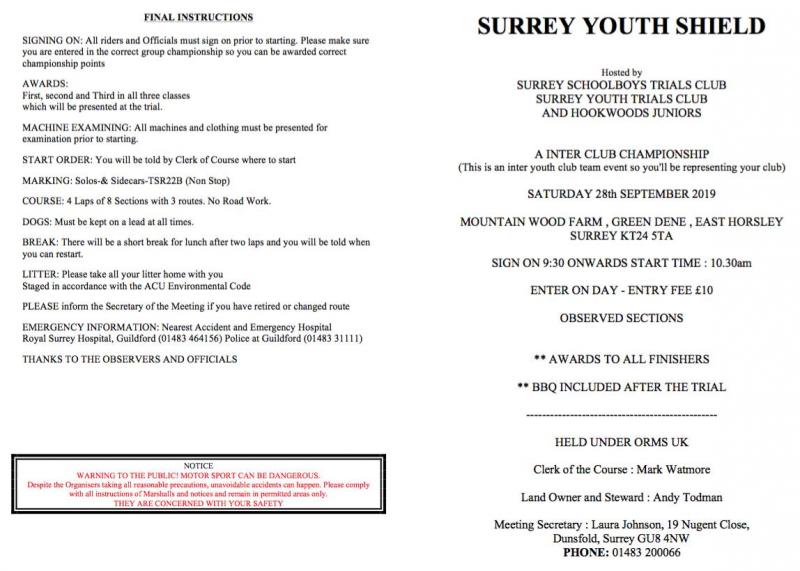 Surrey Schoolboys, Surrey Youth and Hookwood Juniors are hosting a team trial on the 28th September at Mountain Wood Farm, read more about it on the poster above.
ROOKIE AND BEGINNER TRAINING AT BRACKENDENE

Rookie and Beginner Riders (Green or Yellow Route Riders only)
Brackendene 7th September ....
Training Session Lasting 1 hour from 11.30 / 12.30
We are hoping to get some of our expert/inter riders in the club to help the rookies and beginners again with some of the Trials basics.
This would be held in a designated area before the trial.
This would be held between 11.30 and 12.30 before our club trial @ Brackendene
If you and you son/daughter would be interested in this please contact me on 07787 112186 and arrangements can be made
You will need to pre book and be able to get to brackendene @ 11 o'clock to sign on and be ready for a 11.30 start as this will only run for 1 hr
Len Hutty Memorial Trial 2019
Entries for this years 'Len Hutty Trial' are open from the 1st of September through to the 28th of October. Regs can be found on the 'Events' page. The event will be held on Sunday the 3rd of November at Hungry Hill with a start time of 10am. This is a Surrey Schoolboys Trade Tyres Event (Round 4) as well as a Star Group and TVTC round. Please pre enter to make it easier for the signing on team on the day and to ensure that you can get a ride as entries like to fill up fast for this venue. If anyone is able to help with observing one of the 18 sections please contact Mandy Frearson on 01428 683812.
Camping Weekend 2019
What another great weekend at the SSTC Camping Weekend. I think it is safe to say that lots of fun was had by all and it will be bigger and better next year with hopefully less rain and mud!
Sadly, the club has to have a little moan. It was brought to our attention that there had been some litter left in the woods at Sethern. Beer cans, bottles, sweet wrappers and polystyrene cups, which is totally unacceptable. Not only harmful to the wildlife but generally disrespectful to Roy & Lynne. Land for trials is becoming increasingly more difficult to come by, so we must make sure we look after the land/owners that we do have otherwise these events will not be possible. Local members of the club went to Sethern on Monday evening to do a litter pick.

On another note, the brick wall around the fire pit was damaged as a result of people riding over it. SSTC will have to carry out the repairs to the wall as a result of this.

Please respect and look after the land we use and then we can continue to have these great events.
Thank you
New Gallery
The new gallery for photographs hosted here on SmugMug.
The gallery can be viewed via a web browser or the free apps available for Android and iOS.
FIM European Trial Championship
Saturday 20thApril saw Round 1 of the FIM European Trials Championship held at Metzeler Off-Road Park, Pietramurata, Italy. Joe Snelling entered the Youth International Class & finished 15thout of 25 entries, only 12 marks off 9thposition, being the only UK entrant. The trial was challenging with loose rocky ground but Joe with his minder, Richard Harbud, put on a great effort.
The following few days saw Joe practising at Oasi Verdi in Prestine in Northern Italy before heading to Monza Race Circuit for Round 2 of the Championship on Saturday 27thApril. Again Joe was the only UK entrant from a field of 27 entries on a manmade course where he finished 19th.
The whole experience was amazing with a strong ACU Squad competing in all Classes including Women International, Women Championship, Youth International, Youth Championship, Junior Cup, International 1, International 2 & European Championship.
The ACU Squad consisted of Alicia Robinson, Gabby Whitham, Joe Snelling, Harry Turner, Harry Hemmingway, Jack Dance, Brett Harbud, Owen Chestnut, Jack Peace & Dan Peace.
Rounds Three & Four of the Championship are being held in Ancelle, France & Brezova, Czechoslovakia on the weekends of 10th& 17thAugust – bring it on !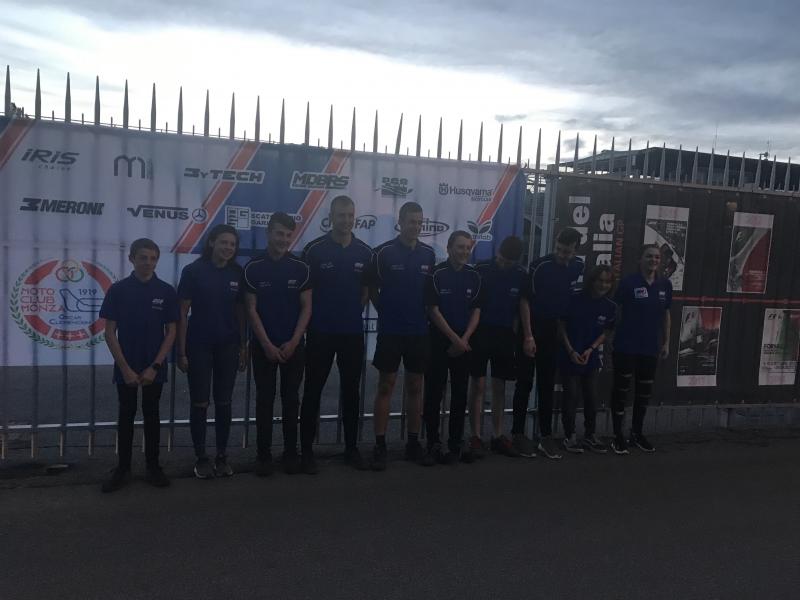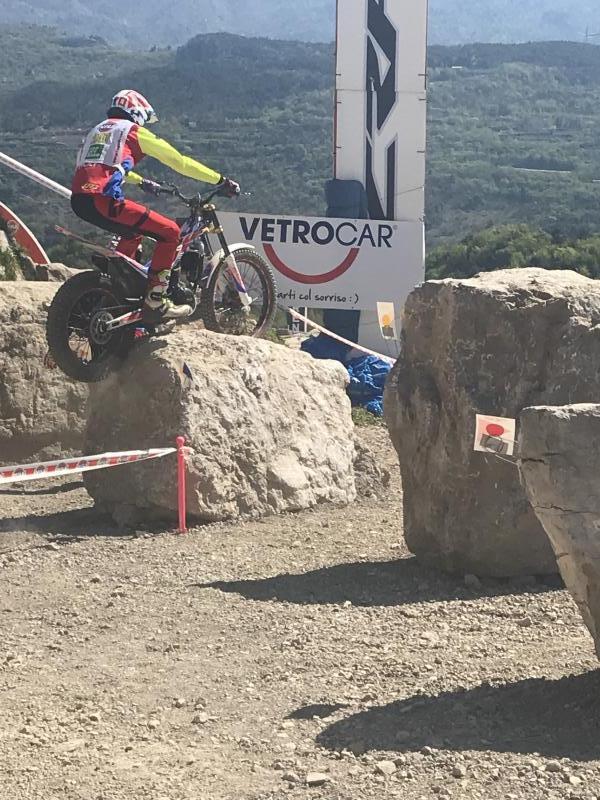 ATTENTION RIDERS ENTERING B/C CLASS YOUTH TRIALS IN 2019 - Full Details
Further to the brief Press release issued on Friday where the ACU Trials and Enduro Committee revisited the proposal to restructure the B/C age/class structure please note the following additional information.This proposal had originated from the Trials Working Group which was made up from invited members of all Centres in 2018 with a view to important proposals such as the current issue being subject to broader debate with a greater representation of opinions. Unfortunately, only 4 Centres received interest from people willing to attend, and whilst their input was very valuable it was decided that on this matter the opinions of Youth Trials organisers would also be sought, and this the Youth Trials Co-ordinator duly did. As a result, it was intended to put the restructuring into place. The proposal was to effectively reduce the time that a rider would stay in C Class and be restricted to riding a maximum 80cc capacity machine. They would, in line with European regulations, then be allowed to move up to B Class a year earlier and be eligible to ride a maximum of 125cc in the year in which they reached 12.However, it is clear from various comments sent in to the office that this presents a number of situations which do not suit all riders of that age group, therefore it was agreed that riders who would have been due to stay in the C Class under the 2018 age/capacity structure i.e. riders born between 1.01.2007 and 31.12.2007 will have the option of either -:
Moving to the B class in the year in which they reach 12 years on a machine up to 125cc (and being eligible for B Class points)

OR

Remaining in the C Class for another year on a machine of up to 80cc and retaining eligibility for C Class points.
Free first ride for Surrey Youth Members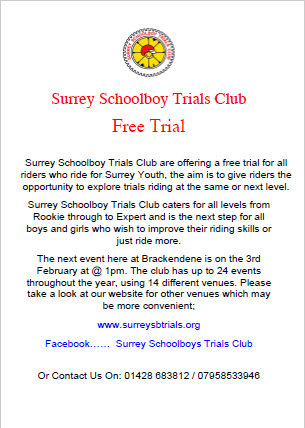 Information about the Club