News
Trumps Mill Working Party
On Saturday (29th February) & Sunday (1st March) volunteers are requied to improve the ground at Trumps Mill. Please help make Trumps Mill better by giving whatever time you can to the Working Party - a few hours, or both days.
FIRST GEAR TRIALS CENTRE CLOSURE
As you may have heard First Gear Trials will be closing its gates due to land being redeveloped, a great shame as yet another piece of land goes.
Andy has always supported us as a club and has asked if we could advertise his 4 OSET 20 ECO'S that he has for sale, if interested look on the for sale page of this website.
Southern Youth Shield Photos
Here is a link to the photos from the Southern Youth Shield last weekend. The password is southernyouth
New Gallery
The new gallery for photographs hosted here on SmugMug.
The gallery can be viewed via a web browser or the free apps available for Android and iOS.
FIM European Trial Championship
Saturday 20thApril saw Round 1 of the FIM European Trials Championship held at Metzeler Off-Road Park, Pietramurata, Italy. Joe Snelling entered the Youth International Class & finished 15thout of 25 entries, only 12 marks off 9thposition, being the only UK entrant. The trial was challenging with loose rocky ground but Joe with his minder, Richard Harbud, put on a great effort.
The following few days saw Joe practising at Oasi Verdi in Prestine in Northern Italy before heading to Monza Race Circuit for Round 2 of the Championship on Saturday 27thApril. Again Joe was the only UK entrant from a field of 27 entries on a manmade course where he finished 19th.
The whole experience was amazing with a strong ACU Squad competing in all Classes including Women International, Women Championship, Youth International, Youth Championship, Junior Cup, International 1, International 2 & European Championship.
The ACU Squad consisted of Alicia Robinson, Gabby Whitham, Joe Snelling, Harry Turner, Harry Hemmingway, Jack Dance, Brett Harbud, Owen Chestnut, Jack Peace & Dan Peace.
Rounds Three & Four of the Championship are being held in Ancelle, France & Brezova, Czechoslovakia on the weekends of 10th& 17thAugust – bring it on !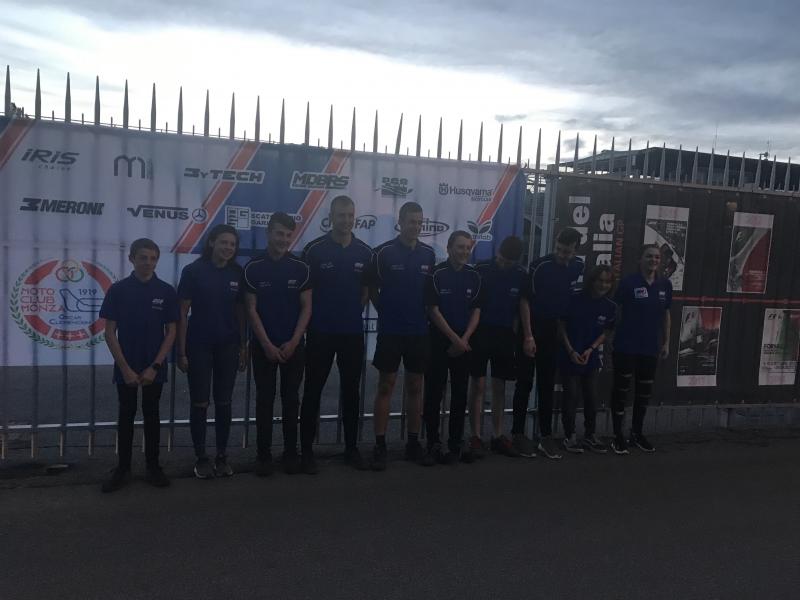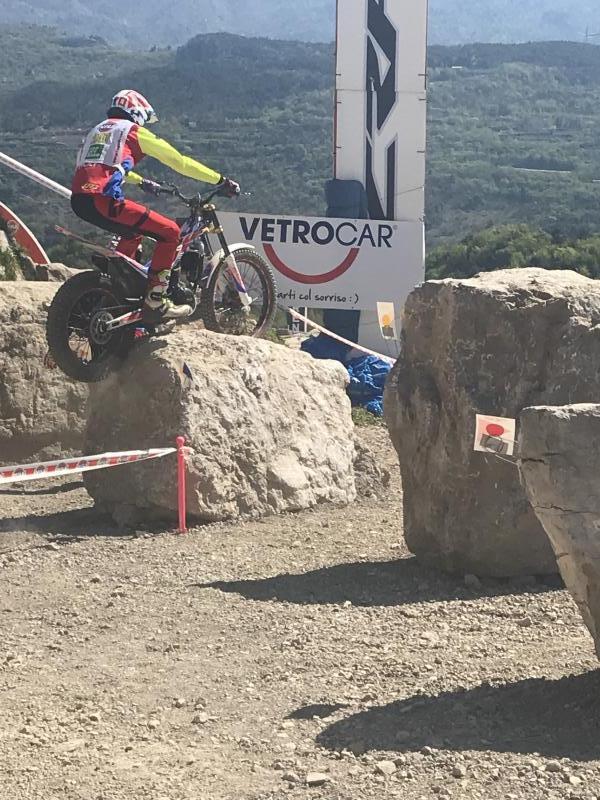 Free first ride for Surrey Youth Members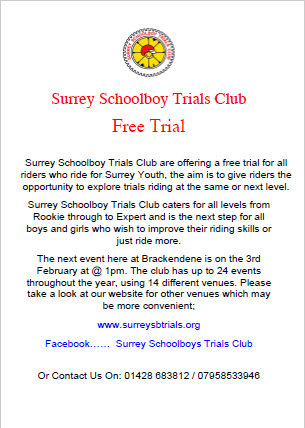 Information about the Club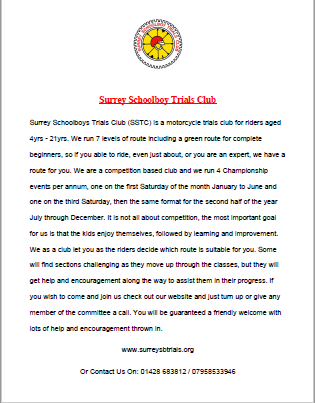 Revised rules
Please note that the a Child Protection statement has been added as a suffix to the rules, these can be viewed in the 'Downloads' section.
Robert Ferris is now our Child Protection Officer in conjunction with his role dealing with Health and Safety.
The committe would also like to remind everyone of rule 14, which states, "No abusive language at any time"!
Surrey School Boys – Report – 3rd September 2016
After the summer break, Surrey School Boys Trails Club returned to Trumps Mill for Round 2 of The Trade Tyres Championship.
A Message from Phil Embury copied from Facebook for information