News
Presentation Evening - Friday 25th of January 2019
This years presentation evening will take place at Effingham Rugby Club at 7.30pm on the 25th of January 2019, with awards for the last 6 months championships.
Free first ride for Surrey Youth Members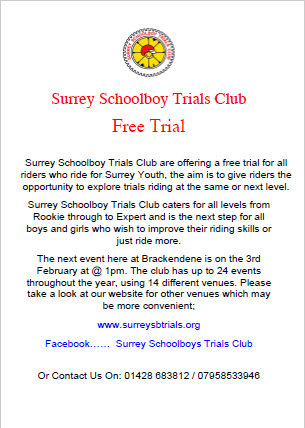 Information about the Club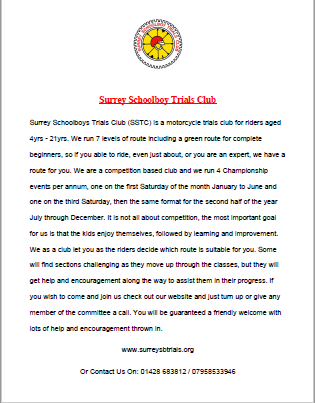 Revised rules
Please note that the a Child Protection statement has been added as a suffix to the rules, these can be viewed in the 'Downloads' section.
Robert Ferris is now our Child Protection Officer in conjunction with his role dealing with Health and Safety.
The committe would also like to remind everyone of rule 14, which states, "No abusive language at any time"!
Recently, there have been requests for permissions for underaged riding. To avoid embarresment of being refused a ride, please note that we abide by ACU Ruling. Which is...
Surrey School Boys – Report – 3rd September 2016
After the summer break, Surrey School Boys Trails Club returned to Trumps Mill for Round 2 of The Trade Tyres Championship.
A Message from Phil Embury copied from Facebook for information
An article by Alan Birkett regarding taking a five voluntarily. 'Is it wrong, has it any value'. Do read an interesting and real scenario.