ATTENTION RIDERS ENTERING B/C CLASS YOUTH TRIALS IN 2019 - Full Details
Further to the brief Press release issued on Friday where the ACU Trials and Enduro Committee revisited the proposal to restructure the B/C age/class structure please note the following additional information.This proposal had originated from the Trials Working Group which was made up from invited members of all Centres in 2018 with a view to important proposals such as the current issue being subject to broader debate with a greater representation of opinions. Unfortunately, only 4 Centres received interest from people willing to attend, and whilst their input was very valuable it was decided that on this matter the opinions of Youth Trials organisers would also be sought, and this the Youth Trials Co-ordinator duly did. As a result, it was intended to put the restructuring into place. The proposal was to effectively reduce the time that a rider would stay in C Class and be restricted to riding a maximum 80cc capacity machine. They would, in line with European regulations, then be allowed to move up to B Class a year earlier and be eligible to ride a maximum of 125cc in the year in which they reached 12.However, it is clear from various comments sent in to the office that this presents a number of situations which do not suit all riders of that age group, therefore it was agreed that riders who would have been due to stay in the C Class under the 2018 age/capacity structure i.e. riders born between 1.01.2007 and 31.12.2007 will have the option of either -:
Moving to the B class in the year in which they reach 12 years on a machine up to 125cc (and being eligible for B Class points)

OR

Remaining in the C Class for another year on a machine of up to 80cc and retaining eligibility for C Class points.
Free first ride for Surrey Youth Members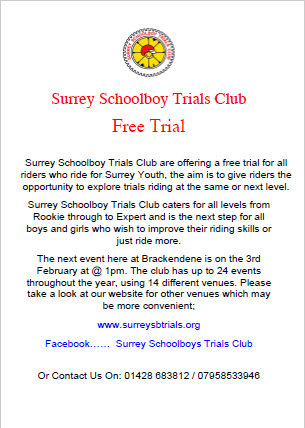 Information about the Club