SPONSORS REQUIRED FOR 2020
2020 SSTC Championship Sponsorship Opportunity
After many years of loyal support sadly Trade Tyres Guildford & Crest Nicholson Regeneration are unable to continue their sponsorship for next year. We greatly appreciate their past support & thank them sincerely for all they have done for the Club.
Two great opportunities now exist for new 2020 Club sponsors.
Sponsors will have a Championship run in their name with publicity on the Club website, Facebook Page & TMX reports.
If you are interested in sponsoring one of our Championships please can you let Nigel or Watty know. (It won't break the bank & the kids will greatly appreciate it as it goes towards the cost of the trophies !).
AGM 2019
Please note the earlier start time for the trial due to it getting dark early
Signing on in the hall only unless prior arrangements have been made with Shelley Smithard the event secretary
Limited parking on school site this year but you can park at trumps mill as people will be there setting out and to keep an eye on the vehicles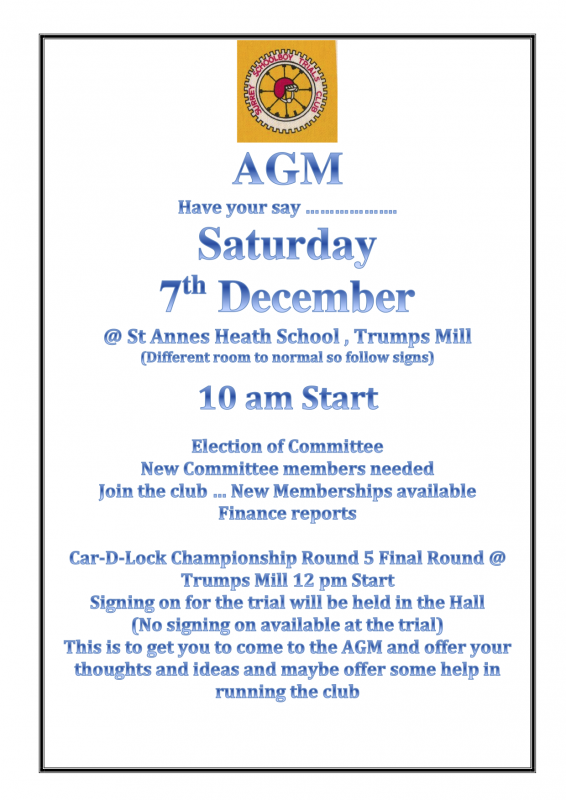 FIRST GEAR TRIALS CENTRE CLOSURE
As you may have heard First Gear Trials will be closing its gates due to land being redeveloped, a great shame as yet another piece of land goes.
Andy has always supported us as a club and has asked if we could advertise his 4 OSET 20 ECO'S that he has for sale, if interested look on the for sale page of this website.